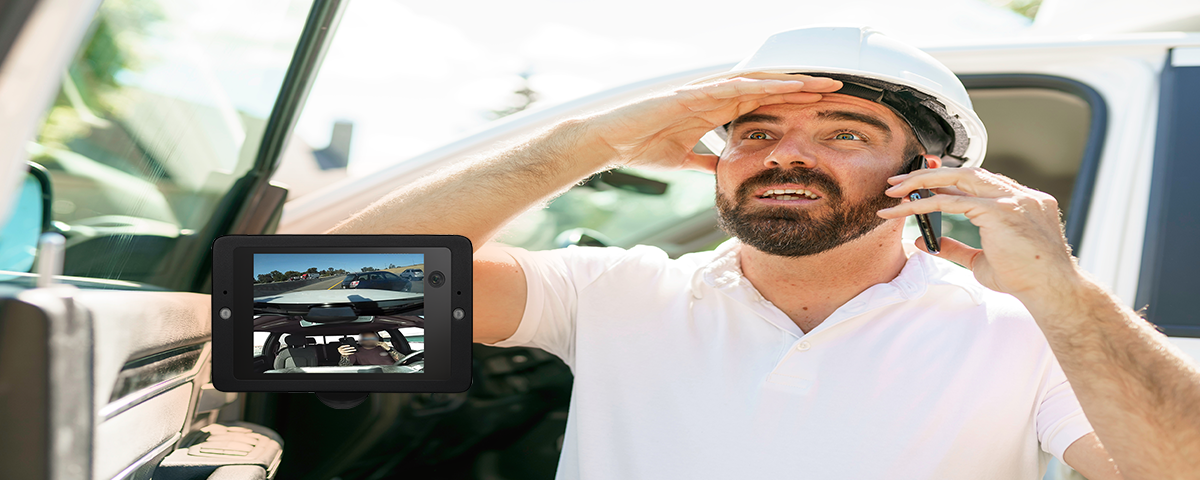 A Fleet Dash Camera Helps Fleet Managers Solve Key Problems
Does Your Commercial Fleet Face Problems That Are Holding Your Business Back?
Fleet dash cameras, alternatively referred to as dashboard cameras or dashcams, have evolved into indispensable instruments for companies overseeing vehicle fleets. Irrespective of the scale of the fleet, these cameras effectively address a range of challenges and complexities faced by fleet managers, drivers, and enterprises. Chiefly, this technology stands as a prime source for context and advancements in efficiency. 
LANA Fleet serves as a trusted Fleet GPS dash camera provider, aiding businesses in surmounting obstacles and achieving their maximum capabilities. In the following sections, we've highlighted the primary issues that find resolution through the utilization of fleet dash cameras:
1. Company Crash/Accident Documentation:
Fleet dash cameras capture clear, real-time video footage should a driver in your company experience an unfortunate accident. Concurrently, this documentation can be crucial for insurance claims and accident investigations, helping determine fault and liability accurately.
2. Driver Behavior and Safety:

Dashcams help monitor driver behavior, such as speeding, aggressive and distracted driving. Promoting safer driving habits reduces the risk of accidents and improves overall road safety.
With the LANA Dashcam, drivers get in-cab alerts for detected infractions, helping them stay alert and make necessary adjustments instantly. Additionally, fleet managers can use alerts to score drivers, create competitions, and eliminate distracted drivers representing their organization.
3. Fraud Prevention:



Additionally, fleet dash cameras deter fraudulent claims, such as staged accidents or false injury claims. Surprisingly to many, video evidence can refute baseless allegations, saving money and time by avoiding unnecessary legal battles and settlements.Many insurance providers offer discounts to businesses that use dashcams. 
4. Reducing Insurance Costs:
The presence of dashcams can lower insurance premiums, leading to cost savings for fleet operators. Contact Your Provider Today To See If Adding a LANA Dashcam To Your Vehicles Could Score You Savings! 
5. Driver Training and Coaching:
Fleet dash cameras deter fraudulent claims, such as staged accidents or false injury claims. Video evidence can refute baseless allegations, saving money and time by avoiding unnecessary legal battles and settlements. Furthermore, many insurance providers offer discounts to businesses that use dashcams. 
6. Theft and Vandalism Deterrence:
The mere visible presence of dashcams can deter theft and vandalism. In additon, in case of an incident, the recorded footage can help identify culprits and recover stolen vehicles. Avoid disruptions and save time dealing with Pesky thieves. Fleet dash cameras provide added security for your yards. 
7. Improving Fleet Efficiency:
The LANA Fleet Dash Camera has built-in GPS tracking, so there's no need for additional GPS devices. Many dashcams on the market do not have this unique feature. Furthermore, this allows your cameras to provide insights into route optimization, fuel efficiency, vehicle maintenance, and more, reducing operating costs.
8. Evidence Collection for Legal Disputes:
If legal disputes arise involving a company vehicle, dashcam footage can serve as valuable evidence.. This can include accidents, traffic violations, or disputes with customers or other drivers.
9. Protecting Reputations:
Dashcams help protect a company's reputation by providing objective evidence in case of disputes or accidents. This transparency can improve public perception and customer trust.
In addition. the company's reputation is not the only thing protected. Dashcams also safeguard the driver's reputation in case someone blames them for an accident. This benefit makes it easy to achieve driver buy-in for drivers to agree to use dashcams. As a matter of fact, driver buy in is quite easy when you relay this added perk to them upon hiring or implementaton. 
10. Verification of Deliveries and Services:
Additionally, live location tracking allows you to provide the utmost transparency to your customers. From being able to alert on the estimated time of arrivals for service or validating how long an employee was on site for; this fleet dash camera with GPS tracking included can reduce any unneeded disputes with customers or clients.
11. Remote Fleet Monitoring:
With the LANA Fleet mobile app, fleet managers can access live and historical video feeds from any location, allowing them to monitor vehicles in real time. Altogether, you can harness nearly all of the capabilities of your desktop LANA Fleet platform through this advanced and intuitive mobile app. There are other dash cameras out there, albiet, none with with this combination at your disposal. 
12. Driver Accountability:
Additionally, are you concerned about the possibility of your drivers not consistently prioritizing your business's best interests during underwriting? Fleet dash cams play a pivotal role in fostering driver accountability as they are aware that their actions are continuously recorded. Particularly, this awareness tends to encourage more responsible and compliant behavior among them. 
13. Data-Driven Decision-Making:
The information gathered through the LANA Dashcam, including details like vehicle speed, location, and driver conduct, can be harnessed to inform data-driven choices aimed at enhancing fleet efficiency, cutting expenses, and bolstering safety. Does this align with what you envision for your fleet? Furthermore, cease relying on uninformed judgments, and explore how this fleet management solution can contribute to the success of your organization.
14. Peace of Mind Without a Fleet Dash Camera:
A problem often overlooked, is not having peace of mind of when your fleet hits the road each day. Fleet managers and business owners gain the priceless aspect of peace of mind knowing that they have a reliable fleet management system to monitor and protect their vehicles, drivers, and the reputation of their company. 
Ready To Address The Challenges Your Business Fleet Encounters?
Altogether, fleet dash cameras have transformed from basic recording devices into advanced systems featuring elements such as GPS tracking, telematics integration, and AI-driven analytics. Emphatically, LANA Fleet takes pride in leading the way with many of these innovations, demonstrating how they have become essential tools for modern fleet management—a must for companies aiming to maintain a competitive edge.
Furthermore, cutting-edge technology that tackles a wide array of issues and delivers numerous advantages to businesses of all sizes is within reach today at an irresistible cost through LANA Fleet! After all, click the link below to equip your fleet today!